If it's not on the list, it isn't art, it hasn't been christened by the arbiters and the initiates have not runneth their cups to overflow upon them.
What?!

Mel Bochner • Measurement: 12" x 12" x 12" (detail) • 1999 • Oil on shellac-prepared Arches watercolor paper • 30 x 22 inches
All day tomorrow at the Art Institute is a
post structuralist dorkfest
that we couldn't be more excited about!
Mel Bochner
's
Focus
exhibition opens tonight (Thursday) and is followed up by a FULL DAY of panel discussions. His Highness
Yve-Alain Bois
delivers the keynote address at 9A and is followed by a morning panel discussion with
Chrissie Iles
of the Whitney,
Scott Rothkopf
of
Artforum
,
Eric de Bruyn
from the U. of Groningen and
Jeffrey Thompson
of Western Michigan U. from 10A - 12NOON. The afternoon panel has
Carroll Dunham
, once a studio assistant of Bochner's, the 'tute's own
James Rondeau
,
Judith Russi Kirshner
of UIC,
Christophe Cherix
from the Art and History museum in Geneva and
Johanna Burton
of Bard at Columbia.
---
Then head up to a humble show drawings and works on paper featuring some
Art or Idiocy?
cohorts and curated by
Elke Claus
in conjunction with the esteemed
Ruprecht Dogheit & Associates
. Artists include:
Carl Baratta , Mariano Chavez, Kevin Chow, Christina Corfield, Tracy Kostenbader, Rebecca Kautz, Thomas Lucas, Tish Noel, Shana Hampton, Michael Pollard, Bruce Riley, Erik Wenzel & Anthony Whittaker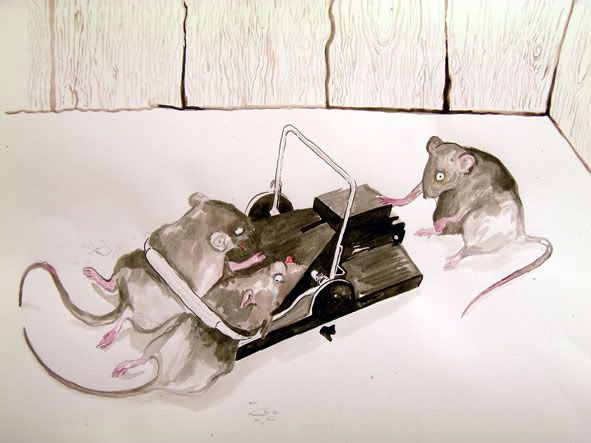 From
Sex & Death
by Christina Corfield
Morpho Gallery
(5216 N Damen)
Opening Friday 6TH from 6 - 11P
Saturday 7TH & Sunday 8TH 12NOON - 5P
---
Finally, on Saturday the 6TH hit up
Butcher Shop Dogmatic
for the closing of
The Longest Piss
exhibition (
EC Brown & Renee Gory
)
Butcher Shop Dogmatic (1319 W Lake)
Open Saturday 7TH 12NOON - 6P
Closing Partay 6 - 9P