FROGATE UPDATE
Artforum.com reports
in its International New Digest that according to the
Süddeutsche Zeitung
the Pope in fact did not in fact condemn Martin Kippenberger's Fred the Frog sculpture. "The statement that allegedly came from the pope was in fact a response from the Vatican's state secretary to a letter from Pahl." Readers will of course remeber Pahl as the local magistrate that went on a hunger strike in protest of the Kippenberger work until he passed out.
---
WEEKENDERS ON OUR OWN
While the wreckers of civilization—not Throbbing Gristle, the Republican Party—are having their [satirical comment removed at the request of the RNC] convention
Art or Idiocy?
is reporting on art.
The major weekend for art in Chicago is typically considered the one in the spring when some iteration of a fair or fairs takes place, but the real time of year is September. Like elsewhere, the first Friday of the month marks the start of the gallery season, along with the new primetime television shows.
---
THURSDAY 9/4
VONZWECK is closing. Has closed. I thought it ended in the spring, but coincidentally, this weekend begins with its last show. Hosted by Anthony Elms and Jacqueline Terrassa, this final hurrah is a group exhibition of all the previous solo artists. Knowing Philip von Zweck, this might be the end of the space as such, but hardly will be the last we hear from him.
Opens (6pm)
Starts Thursday Sep 4
Thursdays (6–9pm) through September 25 and then that's it!
VONZWECK at the Barn (2845 W Altgeld St)
> VONZ
---
FRIDAY 9/5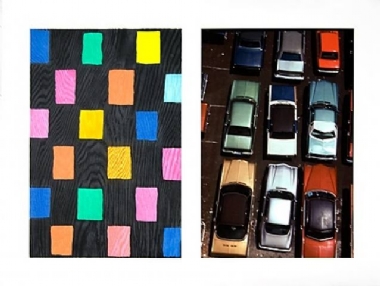 Angles in America
Curated by Terry R. Myers
Rhona Hoffman opens with a group show with Mary Heilmann, Jim Isermann, Gordon Matta-Clark, Robert Overby, Laura Riboli, and Jennifer West. I'm particularly interested in Heilmann's work as well as what Myers has put together. Myers is a critic and historian I enjoy reading, and his focus on Heilmann's
Save the Last Dance For Me
from Afterall is on my reading list.
Opening 5 – 730p, up through 10/11
118 N Peoria
> R-HOFF
---
Rowley Kennerk keeps getting more cerebral with
Quién esta? he said, but no one spoke back.
There was someone there and they had been there. There was no one there. There was someone there and they had been
there and they had not left but there was no one there.
And brings artists whose work I'm eager to see: Marcel Broodthaers
Jan Dibbets, Gaylen Gerber, David Lieske
I talked to him once about the frustration over seeing shows and whether or not to review them badly. "You can always dog me," he said, "I won't take it personally." The only problem is that Rowley Kennerk consistently puts on some the best shows I've seen, and has one of the most solid programs.
Opening 6 - 8p, up through 10/11
Rowley Kennerk Gallery
119 N Peoria St #3C
> ROWLEY
---
At 65GRAND, a space I'm affiliated with, is Brain Kapernekas' first solo exhibition with the gallery,
Deadfall
. Kapernekas' work is easy to describe in one sense, but impossible in another. Works that appear to be straightforward representational images seem to function as pure abstraction. It is dissociation. To look at paintings by Brian Kapernekas is to experience the sensation of losing your grasp on objects and images you think you understand. It is a sense of alienation from icons of world around you, light coming through barns doors, campfires, Martian landscapes. There, that's a good explanation. He also does sculpture, while the subjects are more sinister, skulls, crows and on, they aren't nearly as disturbing to view. They are in fact humorous and playful, which the paintings are a little bit too.
Opening 7 – 10p, up through 10/4
1378 W Grand, entrance on Noble
> ALLCAPSNOGAPS
---
I had heard Western Exhibitions was moving, possibly to one of the spaces inhabited by Three Walls, and apparently it has. Just as a summer exhibition in the old mercilessly hot factory space sweated on beyond the entry through the unlit derelict Lisa Boyle space, final show still on the wall, the move seems to have just come about with little fanfare.
The first exhibition in the new space is Stan Shellbarger's second solo with the gallery,
Walking Books
. Shellabarger makes performative conceptual art focused on the body. Using adjectives that are apt, but perhaps repulsive, I would describe it as old school hardcore performance art. Shellabarger seems firmly rooted in a tradition coming right out of the 60s and 70s, and carries the powerfully reductive torch of body art onward.
Opening 5 – 9p
119 N Peoria St, 2A
> WX
---
Continuing on the abstraction summer group show, Thomas Robertello has a solo show entitled Places to sit and conquer by young New Yorker Patrick Berran, a painter keeping the fires of Helen Frankenthaler and Jules Olitski (maybe a little Jonathan Lasker) burning while fronting the punk band Apeshit. Apeshit, an excellently named band, recently performed at the Whitney Museum, so they might be an art punk band.
Opening 6 – 9p, up through 10/4
939 West Randolph Street
> ROBERTELLO
---
Margot Bergman, who takes thrift store paintings and makes them truly bizarre, in the manner of Asger Jorn or Enrico Baj presents new work in
The Dust Blows Forward, The Dust Blows Back
at Corbett vs. Dempsey. The title of the exhibition, I am told, derives from a Captain Beefheart lyric.
Opening 5 – 9p, up through 10/11
1120 N. Ashland
> CvsD
---
SATURDAY 9/6
Lloyd Dobler continues the Chicago spirit of worthwhile apartment galleries with a solo show of work by Autumn Ramsey, painterly paintings in the quirky "contemporary" mode appear to have a touch more than the average fare. Plus they got the info on the show up on their site, unlike many, many other commercial spaces in the city.
Opening 6 – 10p, up through 10/18
1545 W Division, 2nd Flr
> SAY ANYTHING
---
I'm on the fence about the work of Jason Meadows, but that's based on work from 2005. At Shane Campbell we'll see where the work has gone in the past three years.
Opening 6 – 8p, up though 10/11
1431 W. Chicago Avenue
> SHANE
---
SUNDAY 9/7
If you can make it to the fourth day of this weekend, on the far west side is devening projects + editions. The main event is Jin Lee's photos,
floating world
, which are kind of boring and average, but have a certain quality that you can't easily dismiss. In the "Off Space" is
said, unsaid
, work by Aline Cautis. Her nests of diagonal lines built up through layering of watery media produces an argyle-like pattern that is attractive, sympathetic and a little bit omionous, like being trapped by one's own obsessive hopes and anxieties.
Opening 4 – 7p, up thorugh 10/8
3039 W Carroll, 3rd Flr
> DP+E