I am taking a bit of a hiatus from writing. One reason is my exhibition at 65GRAND,
BELIEF IN DOUBT IN PAINTING
, which opens this Friday, February 20. I do want to take a moment and direct you to some recent reviews for
ArtSlant
and an interview I was excited to conduct and am pleased is now available for viewing.
---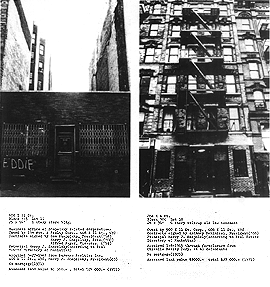 Hans Haacke •
Shalopsky et al Manhattan Real Estate Holdings, A Real time Social System, As of May 1, 1971.
• from
thefileroom.org
First, check out the interview I conducted with Hans Haacke when he visited the University of Chicago last year for
ArtSpeaks
hosted by the Open Practice Committee. Other than saying "um" a lot, I think I did a good job. I got to ask him a lot of questions. One of which that I thought was casual, turned out to lead to answer dispelling rumors and myths about his infamous cancelled Guggenheim show. It occurs near the end, so listen in with intent ears and know you've had the spoiler alert. Revisionist history, straight from the artist's mouth.
> HAACKE
---
Still from the video projection
Healing Colors, Musical Notes
(w/ Jim Dorling) • 2008 • 29 min. 37 sec.
> Scott Wolniak Ungray: Color Light and Other Balms
---
Davis/Langlois •
Dads
• 2008 • 0il on canvas • 34 x 60 inches, 2 parts • monique meloche gallery
> Davis Langlois: House of the Rising Sun
---
Matthew Higgs •
Look at Me
• 2007 • framed bookpage • 13.5 x 10.5" • ed. 1 of 3 • courtesy of Murray Guy • as seen in "Presents" curated by Milwaukee International at Rowley Kennerk Gallery
> Presents