Up now on ArtSlant: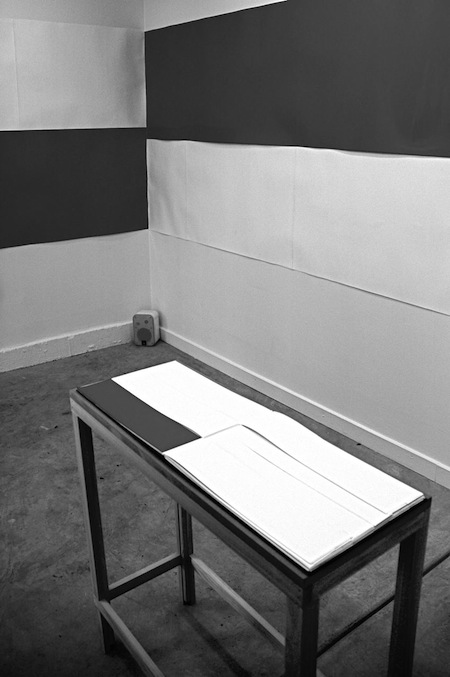 From left: installation view of
SUBSTANCE (for Julian) by Tilman
• courtesy of The Suburban • installation view of elena Trepp
Appear to Disappear
• courtesy of the artist and Andrew Rafacz • Zak Smith • drawing from
We Did Porn
• courtesy of Tin House Books
SUBSTANCE (for Julian) by Tilman
at The Suburban
>Review • >Venue
Selena Trepp
Appear to Disappear
at Andrew Rafacz
>Review • >Venue
Zak Smith
We Did Porn
published by Tin House Books
>Review • >Book
Julian Dashper • Left: untitled • 1996 • Right:
Artfrom
• 1992 • Dashper took an ad out in
Artforum
reading "Artfrom New Zealand" instead of "Artforum International" a subsequent ad went on to review the imaginary exhibition.
In my review of the show at The Suburban I refer to statements Julian Dashper made at his talk last year the University of Chicago's Contemporary Art Workshop*. I have more notes from his talk that I think are worth sharing here:
Known more for interest in footnotes rather than the main story.

Suspect of canonization from underneath: the younger artists saying an older one is cool.

Uses the activity of Minimalism, politics of the reductive, to not show much. "I show a lot, but I don't show much when I show."**

I encourage you to make the most of your situation. Use them saying "NO" as gunpowder.

Shows CV as a work of art, it is for sale. Printed on black paper. Like porn, you have to look at it very closely. People are obsessed with CV's but don't admit, like porn.

I painted a painting and then spent my time sanding it off.

Leaves lights where they were from last show.

Recorded the last 15 minutes of the Venice Biennale.

Leave blank spaces in exhibitions. "Breathing spaces."

At university you aren't making art, you're studying it. It's like you are student of medicine.

What is your public?
I view it as an awful word "art literate" or "gallery-goer." But also people on the street, they are informed by artists… There is not one truth, but series of truths. I don't believe the artist necessarily owns the meaning, it is cumulative.
* CAW is a joint venture of the Art History and Visual Arts departments at the University that tries to bridge that uncanny valley between theory and practice. Dashper, in town for The Suburban project spoke to CAW at the invitation of a colleague from New Zealand.
** That's the way he said it, and I like the way it sounds. The doubling up of "show" is interesting. What he is saying is that he participates in a lot of shows, but the amount of work he shows in those exhibitions is sparse. This for him was based in Minimalist aesthetics/politics. It also, for me, fits into the aspect of his practice of "not being there," but in a way that absence is present. Much like leaving empty "breathing spaces." That is a sound installation tactic everyone thinking about putting art out in a space to be looked at should take to heart.